We love doing the nitty-gritty accounts stuff – so you don't need to
It may be boring for you, but keeping everything up to date and on time is essential for any successful business – and we love doing it!
So handing it all over to us means that: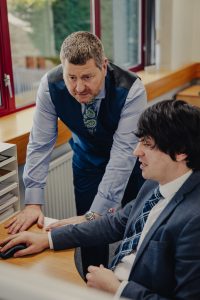 You have complete peace of mind that everything is being taken care of, professionally and on time.
There's never any hassle with the taxman or late submission penalties.
You get timely and accurate preparation of personal, partnership and corporate tax returns.
We prepare your VAT returns and make sure you're claiming for everything you should be.
We prepare your monthly, quarterly and annual employers' returns.
Your books will be kept in perfect condition, so when it comes to year-end, it will cost you less to do the accounts.
You get monthly or quarterly management accounts, plus analysis and recommendations, so you can run your business more efficiently – and more profitably.
We prepare and produce your year-end statutory report and accounts.
As registered auditors, we undertake the statutory audit of your company accounts, if required.
And of course, we'll look after all the Company Secretarial and other similarly vital compliance work.
Just imagine how much more time you will have to think about making your business more profitable if we take all this off your hands!
SERVICES
LATEST NEWS
6th April – Start of the Tax Year The tax year runs from 6th April to 5th April the following year,…
On 15 March 2023, Jeremy Hunt announced his Spring Budget 2023, coined as the "budget for growth", the latest budget aims…
AAT Qualified Accountant/ Accounts Semi-Senior A rare chance to join a growing independent firm of Chartered Accountants, based in North Leeds.…